Spring Profile: Extension Springs
Overview:
Extension springs are designed to absorb and store energy by providing resistance to a pulling force. As an extension spring is slowly stretched, tension force is resisted as the spring attempts to return to its original coiled position.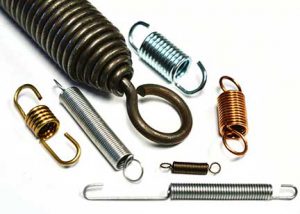 Extension Spring Characteristics:
Extension springs are most often closed wound and cylindrical in shape, but a wide variety of end styles can be specified. They can be designed to handle different loads, applications, or specific conditions by varying the size of the coil, the size of the wire or even by the length of the springs. As with most spring types, extension springs are made from a broad range of materials, depending on the application requirements, which include factors such as temperature, stress, and corrosive environmental conditions.
Extension springs are designed to provide resistance.
The coil of an extension spring is wound tightly in the no load position.
They have hooks, eyes, or other attachments with which they can connect to components.
Extension springs supply return force to components that extend in the actuated position.
Configurations include hooks, threaded inserts, extended twist loops, crossover center loops, expanded eyes, reduced eyes, rectangular ends and teardrop-shaped ends, or a drawbar spring.
Extension Spring Applications
Used in a variety of products and assemblies, extension springs are commonly found in toys, trampolines, appliances, automotive interior and exterior mechanisms, garage doors, tools, and more.
Extension springs are used in a diverse range of industries including:
Consumer Goods
Tools and Equipment
Automotive
Medical Devices
Appliances
And more
Buying Extension Springs
W.B. Jones has over 100 years' experience providing quality extension springs, both stock and custom to meet your needs. When you need custom extension springs, our design specialists will assist you in ordering the spring that will meet your needs and work within your budget. Our team can work from new or existing custom designs to deliver the springs you need on time and within budget.
Learn more about extension springs, or contact us to discuss your application needs.
---
Share this
---