Extension Springs Information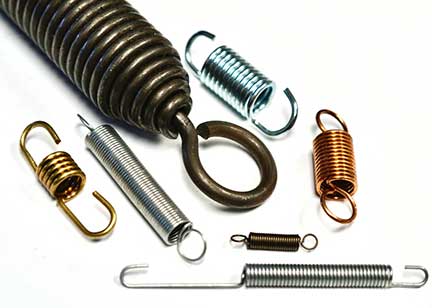 Attached to components at both ends, extension springs exert force to bring the components together again as they move apart. Extension springs store energy and absorb it. They also provide resistance to a pulling force. The tension of an extension spring determines how tightly it is coiled. The tension can be adjusted to achieve a particular load requirement in a given application. Wound to oppose extension, extension springs are usually tightly wound in the no-load position and have hooks, eyes, or other attachments with which they can connect to components. Extension springs are often used to supply return force to components that extend in the actuated position.
Extension springs are commonly used in automotive mechanisms, garage doors, trampolines, washing machines, tools, toys, and equipment in a wide array of industries. Extension spring ends are designed to meet specific application needs. Configurations include hooks, threaded inserts, extended twist loops, crossover center loops, expanded eyes, reduced eyes, rectangular ends and teardrop-shaped ends. Another extension spring configuration features a drawbar spring. In this design, the load at the ends of long, steel loops that pass through the spring center and compress the spring upon loading.
Extension spring parameters include: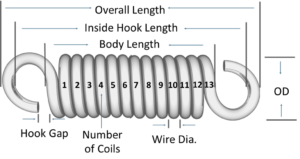 Outer diameter- of the spring
Wire diameter – of the wire used to create the spring
Overall length – of the spring in the unloaded position
Rate – amount of weight required to deflect the spring one inch
Load -amount of weight the spring can carry when deflected to a given height
Material – compression springs are constructed from stainless steel, music wire, hard drawn, brass, and more.
W.B. Jones offers an extensive selection of stock extension springs as well as full capabilities and experience in creating custom extension springs. For fast, personal assistance, please give us a call at 859-581-7600. We look forward to working with you.