COMPRESSION SPRINGS
Get the quality compression springs you need quickly with W.B. Jones.
Finding the right spring doesn't need to be complicated, so don't hesitate to ask for help. 
Fast quotes
Fast manufacturing
Fast delivery
Custom Compression Springs
Our goal is to quickly deliver affordable, custom compression springs so you can get back to being productive. We use our old school customer service to respond to questions and provide quotes within hours, and the latest spring manufacturing technology to ship custom compression springs in 1 to 2 weeks. Let us help you find your spring today!
Get a quote today
Stock Compression Springs
W.B. Jones stocks a variety of compression springs to meet a wide range of application needs. Search our inventory of stock compression springs to find the length, diameter, rate, material, and load strength you require. Once you find the spring you need, you can order online.  Need help? Contact us.
Order Stock Compression Springs
We know that fast turnarounds, personal service, and superior quality are important to our customers. So that's what we deliver.
Putting everything on hold for a spring is frustrating.  That's why we carry a variety of stock compression springs ready to ship today and offer one to two week lead times on affordable, custom compression springs. (Other companies take 4 to 6 weeks.)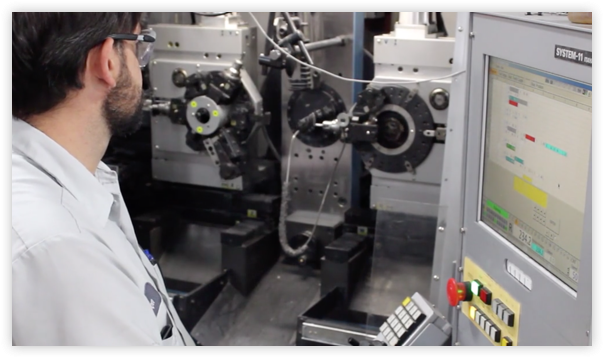 Answers to Common Questions about Compression Springs
How to measure your compression spring.
Providing us with accurate measurements is the key to getting the right springs for your job. Watch the video or see our Measuring Guide.
Count on a family owned American supplier to help you stay productive.
Responsive
customer service
A reliable supply chain from
USA-made quality products
Shipping within 5 to 10
business days for most orders
Quotes and answers
the same day
Superior quality springs for resellers, manufacturers, and the general public