Small Springs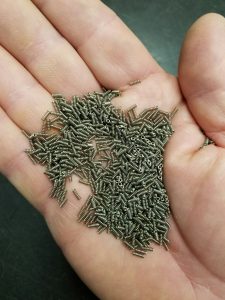 Need a source for small springs? As an experienced spring manufacturer with comprehensive manufacturing capabilities, W.B. Jones can handle the design, fabrication, and finishing processes for your small springs in our Wilder, Kentucky facility.
Looking for a small sized spring but don't have a micrometer? Send us sample of your small spring and we will get the accurate measurements needed to make it. Our smallest stock is typically .088″ OD and the smallest wire diameter we carry in stock is.007″, but if a smaller spring is required, we can accommodate your needs. We manufacture our springs to the Spring Manufacture Institute tolerance guidelines.
Need assistance with your small spring application? Contact us – our team can help. We can calculate the spring rate as well as the maximum load and travel. If a spring design is overstressed, we can offer suggestions on how to change the specs to avoid spring failure. We know the questions to ask to make sure a spring will fit and work appropriately.
Only need a few small springs? W.B. Jones has no minimum order requirement on custom springs. Whether you need two small springs or 200, shipments arrive to you in one to two weeks. We can also expedite orders in 24 to 72 hours for rush delivery.
Types of small springs we offer include:
Small Springs Applications
Small springs are used in a wide array of applications and assemblies such as in appliances, electronic devices, medical equipment, and much more. The materials commonly used for small springs include music wire, stainless steel (types 302, 304, 316), spring brass, and phosphor bronze. When manufacturing small springs, these types of materials are used in spring tempered form. The tempering process involves the cold extrusion of wire to increase its strength and diminish the need to harden the spring once wound.
The type of material used to manufacture small springs depends on the specific user requirements. Most medical devices are made out of stainless steels because stainless is corrosion resistant and less magnetic than other spring steel. Phosphor bronze is commonly used in electrical applications since it conducts electricity.
Contact us to discuss your small spring needs.