Our Compression Spring Catalog has the Spring You Need
Compression springs play an important role in many products and applications, ranging from ball point pens to industrial equipment. Whatever the job may be, choosing the right compression spring is imperative. Even the slightest difference in the design of a compression spring can lead to application failure.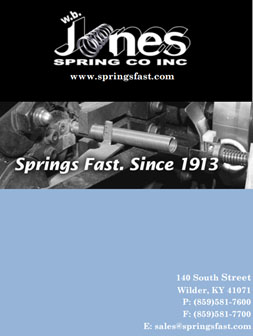 When it comes to finding the right compression spring for the job, no one does it better than W.B. Jones. We meet a broad range of spring needs with a wide in-stock selection in the W.B. Jones compression spring catalog. We are also your source for custom compression springs. Our compression spring catalog includes a simple and concise order form for getting compression springs made to your precise specifications.
Finding the compression spring you need is fast and easy using the 36-page W.B. Jones spring catalog.   You will find specifications and details about our compression springs organized in chart format to help you easily identify the spring you need. Simply select the material, end type, and finish you require for your product or process.
When you need to order more of a compression spring you already have, simply follow our guide to measuring compression springs or watch our tutorial compression spring measurement video.
For over a century, W. B. Jones has been the trusted name in springs of all varieties, including compression springs. Our complete line catalog also features our comprehensive selection of extension springs, torsion springs, spring assortments, and more. Find the W.B. Jones compression spring catalog in downloadable PDF format at Springsfast.com.
Our team of spring specialists is here to assist you with any question or order.  Contact us to discuss your needs.
---
Share this
---