Wire Forms Information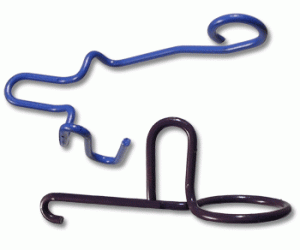 Wire forms are components made from wire, which is manipulated to specific lengths and angles. Unlike springs, which have a coil or helix shape, wire forms do not usually take this shape. Wire forms are available in a variety of configurations and sizes to suite specific application needs.
Wire forms can be parts that are formed from flat, round wire, rectangular-shaped material, rolled, round wire, and tempered wire. A wide range of materials can be used for producing wire forms including steel, non-ferrous metals such as brass, and more. Wire forms are usually fabricated from forms, which can be made by producing long strip forms and form tools to create the necessary size and shape. Dies may also be created and used for cutting, etching, notching, extruding, and more.
Wire forms are commonly used as very small, intricate parts like light bulb filaments, musical instrument components, fishing equipment elements, as well as parts used in fences, cages, hooks, clocks, pins, rivets and machinery. Wire forms may be finished after production by polishing, coating, deburring, or welding.
W.B. Jones offers full capabilities and experience in creating custom wire forms. For fast, personal assistance, please give us a call at 859-581-7600. We look forward to working with you.